Veteran World Championships 2017, Olbia, Italy – DAY 4
Published on October 3, 2017
The IJF Veteran World Championships 2017 came to a compelling conclusion on Tuesday with all the women's categories and the men's M2 age group being decided at the Geo Village resort in Olbia, Italy.
High-quality Hungarian captures Veteran gold
Multiple-time Hungarian national champion VESZI Klara, who finished seventh at the European Championships in 1994, won IJF Veteran World Championships gold with a polished display in the F3 -63kg category.
VESZI, a World University Championships silver medallist in 2000, progressed with ease as she opened her day by scoring four times against Sandra RODRIGO BLOMQVIST (SWE). The Hungarian took the contest by ippon and also scored three waza-ari.
The 43-year-old then bested Violeta KALLOS (ROU) by ippon.
VESZI won the final by ippon as Michaela RUPP (CZE) picked up an injury and had to withdraw from the contest.
London 2012 Olympian has to settle for silver
London 2012 Olympian Sophie COX took silver in the F2 -57kg category. The four-time senior European Championships medallist illustrated that the level of the Veteran Worlds is high and, just like in IJF World Judo Tour events, anyone can be beaten by anyone.
COX, who is the Head Instructor of Fighting Fit Judo in her home city of Manchester, lost in the final by ippon to former national champion Ida LINDGREN (SWE) in the final.
The British judoka started judo aged 8 at Bacup Judo Club with Brian Moore and looks set to become a feature on the Veteran scene.
Veteran Worlds dubbed the 'most successful ever'
IJF Veteran Commission Chairman Mr. Andrei BONDOR said that this year's event was the most successful edition ever.
The ninth IJF Veteran World Championships attracted 1126 judoka from 52 nations and 37 of those countries won medals.
"In my opinion this is the most successful edition of the IJF Veteran World Championships," said BONDOR.
"The organisers (FIJLKAM) tried their best and it's a difficult competition to stage. Sometimes they tried to be too perfect and there was small mistakes but overall it was a great success.
"There was a wonderful atmosphere here, there was many families and generations within those familes here. One of the aims of this event is to show that you can practice judo as a child right through your life and I feel that message came through here.
"I have received many positive comments and I am grateful to everyone who worked so hard.
"We hope to stage the 2018 IJF Veteran World Championships next year in Cancun, Mexico. Right now our thoughts are with everyone in Mexico after the recent terrible tragedies."
Judo legends in Olbia
Omar DANGA LOUM has dedicated his life to judo and its development. Born in 1946, he has been a member of the Senegalese Judo Federation since 1969, former president of the same federation and he was Secretary General of the African Judo Union for 25 years. He thus assisted and actively participated in the rise of judo, not only in Senegal, but throughout the continent.
DANGA LOUM has been present in Olbia in his capacity as a IJF Veteran Commission member.
Click here to watch a special film on Omar DANGA LOUM (below – right)
IJF Hall of Famer and 10th Dan Mr. Franco CAPELLETTI was also in attendance throughout the competition and will be responsible for the upcoming Kata World Championships and Kata Grand Slam which start on Thursday in Olbia.
IJF Kata Commission Director CAPELLETTI was presented with his 10th Dan by IJF President Mr. Marius VIZER at the 2017 Suzuki World Championships in August.
Stay tuned to the IJF website in the coming weeks for a special film on Franco CAPELLETTI as part of the Judo Legends series.
Judo's Moral Code: Courage
1. the ability to do something that frightens one; bravery.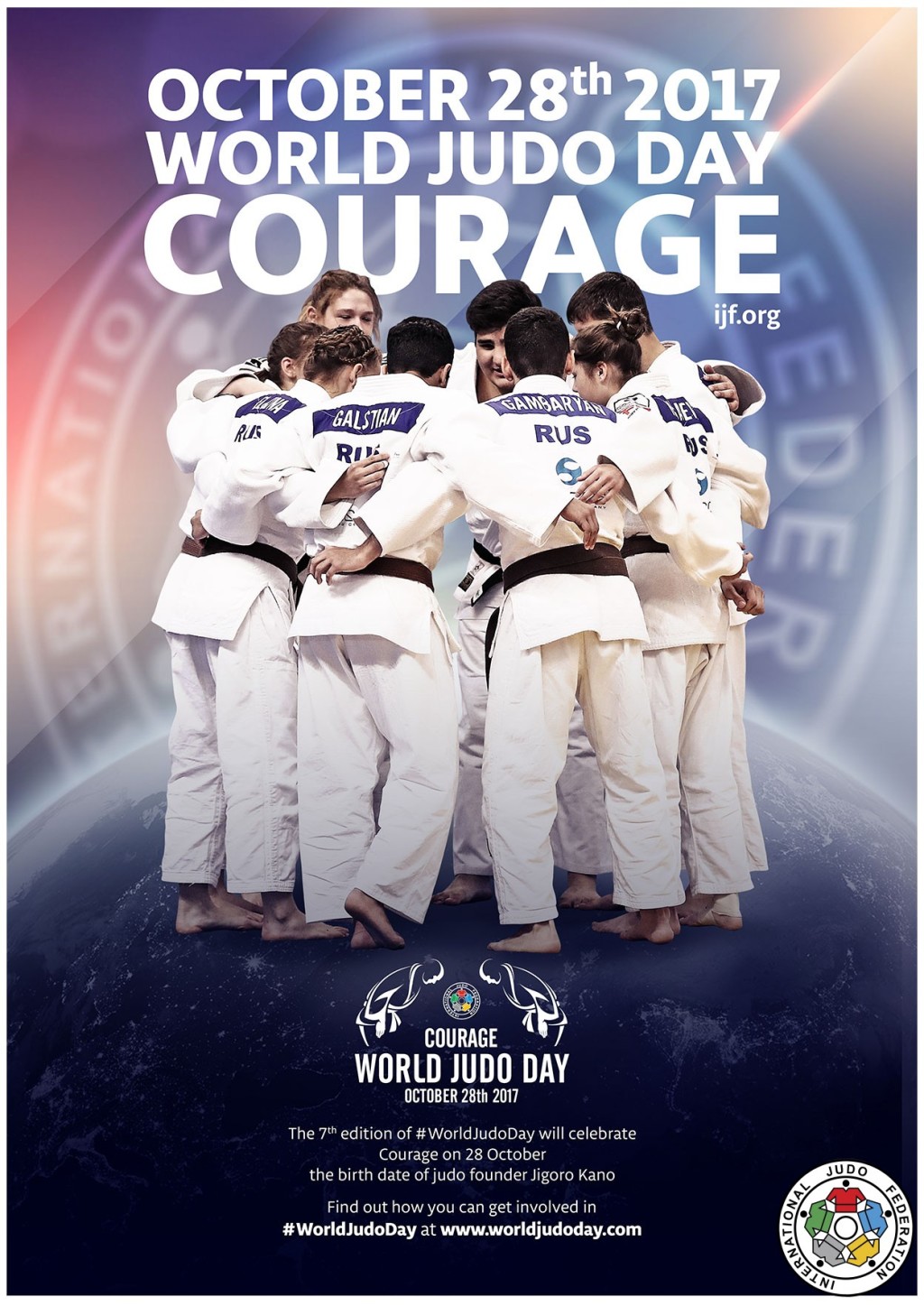 The IJF's annual #WorldJudoDay will be held later this month on 28 October, the birth date of judo founder Jigoro KANO and this year's theme is Courage.
Previous themes were JUDO FOR THE WORLD (2016), UNITY (2015), HONOUR (2014), PERSEVERANCE (2013), JUDO FOR ALL (2012) and RESPECT (2011) for the day which is dedicated to coaches, fans, judoka and everyone with a passion for one of the world's most widely practiced sports.
More than 28 million people practice judo around the world on a daily basis and the IJF has 196 national member federations and five continental unions. The IJF aims engage all continents and countries in #WorldJudoDay activities on 28 October by encouraging all judoka be active on the mat in or outside of the dojo.
Click here to for the posters and diploma's for #WorldJudoDay 2017
Men and women were in action on the last day in Olbia
The Kata World Championships will now take over the tatami in Olbia from 6 -7 October. There will be a live stream at www.ippon.tv and coverage on the IJF website.
   W.Ch. Veterans 2017 Results Day 4.pdf 
Download
The IJF World Judo Tour reconvenes in Uzbekistan this weekend for the Tashkent Grand Prix. Rio 2016 Olympic bronze medallist Or SASSON (ISR) will compete at +100kg while London 2012 Olympic bronze medallist CSERNOVICZKI Eva (HUN) will compete at -48kg.
Watch #JudoUZB2017 live and free from 6-8 October at live.ijf.org